We've just expanded to international shipping! Partnering with USPS (the United States Post Office), we're offering international shipping to over 200 countries worldwide. While the shipping costs make it prohibitive to offer this free like we do in the USA, we are only passing along the lowest published rate so this is still an awesome deal!
Now shipping to: Afghanistan, Albania, Algeria, Andorra, Angola, Anguilla, Antigua and Barbuda, Argentina, Armenia, Aruba, Ascension, Australia, Austria, Azerbaijan, Bahamas, Bahrain, Bangladesh, Barbados, Belarus, Belgium, Belize, Benin, Bermuda, Bhutan, Bolivia, Bonaire, Sint Eustatius, and Saba, Bosnia-Herzegovina, Botswana, Brazil, British Virgin Islands, Brunei Darussalam, Bulgaria, Burkina Faso, Burma (Myanmar), Burundi, Cambodia (Kampuchea), Cameroon, Canada, Cape Verde, Cayman Islands, Central African Republic, Chad, Chile, China, Colombia, Comoros, Congo, Democratic Republic of the, Congo, Republic of the, Costa Rica, Cote d'Ivoire, Croatia, Cuba, Curacao, Cyprus, Czech Republic, Denmark, Djibouti, Dominica, Dominican Republic, Ecuador, Egypt, El Salvador, Equatorial Guinea, Eritrea, Estonia, Eswatini, Ethiopia, Falkland Islands, Faroe Islands, Fiji, Finland, France, French Guiana, French Polynesia, Gabon, Gambia, Georgia, Republic of, Germany, Ghana, Gibraltar, Greece, Greenland, Grenada, Guadeloupe, Guatemala, Guinea, Guinea-Bissau, Guyana, Haiti, Honduras, Hong Kong, Hungary, Iceland, India, Indonesia, Iran, Iraq, Ireland, Israel, Italy, Jamaica, Japan, Jordan, Kazakhstan, Kenya, Kiribati, Korea, Democratic People's Republic of (North Korea), Korea, Republic of (South Korea), Kosovo, Republic of, Kuwait, Kyrgyzstan, Laos, Latvia, Lebanon, Lesotho, Liberia, Libya, Liechtenstein, Lithuania, Luxembourg, Macao, Madagascar, Malawi, Malaysia, Maldives, Mali, Malta, Martinique, Mauritania, Mauritius, Mexico, Moldova, Mongolia, Montenegro, Montserrat, Morocco, Mozambique, Namibia, Nauru, Nepal, Netherlands, New Caledonia, New Zealand, Nicaragua, Niger, Nigeria, North Macedonia, Republic of, Norway, Oman, Pakistan, Panama, Papua New Guinea, Paraguay, Peru, Philippines, Pitcairn Island, Poland, Portugal, Qatar, Reunion, Romania, Russia, Rwanda, Saint Helena, Saint Kitts and Nevis, Saint Lucia, Saint Pierre and Miquelon, Saint Vincent and the Grenadines, Samoa, San Marino, Sao Tome and Principe, Saudi Arabia, Senegal, Serbia, Republic of, Seychelles, Sierra Leone, Singapore, Sint Maarten, Slovak Republic (Slovakia), Slovenia, Solomon Islands, South Africa, South Sudan, Republic of, Spain, Sri Lanka, Sudan, Suriname, Sweden, Switzerland, Syrian Arab Republic (Syria), Taiwan, Tajikistan, Tanzania, Thailand, Timor-Leste, Democratic Republic of, Togo, Tonga, Trinidad and Tobago, Tristan da Cunha, Tunisia, Turkey, Turkmenistan, Turks and Caicos Islands, Tuvalu, Uganda, Ukraine, United Arab Emirates, United Kingdom of Great Britain and Northern Ireland, Uruguay, Uzbekistan, Vanuatu, Vatican City, Venezuela, Vietnam, Wallis and Futuna Islands, Yemen, Zambia and Zimbabwe.
Over 4 million people spontaneously google for something like "caffeine withdrawal" or "too much coffee". At the same time, most companies are trying to sell us more and more caffeine. Recent new product introductions by Big Coffee include 2x and 3x caffeine offerings. The reasons are simple. Caffeine has become big business and keeping people addicted to their products is just good repeat business. 
CAFFEINEcontrol was created to give people an alterantive to high caffeine products. Even if you don't want to quit caffeine, this is the perfect way to cut back while feeling your absolute best. Now you can consume less caffeine without sacraficing the energy and focus you need to stay productive at work and present and engaged with family and friends. 
If you can't skip coffee or energy drinks for a day or you're sick of feeling jittery and sleepless all the time, it's time to take control of your caffeine habits.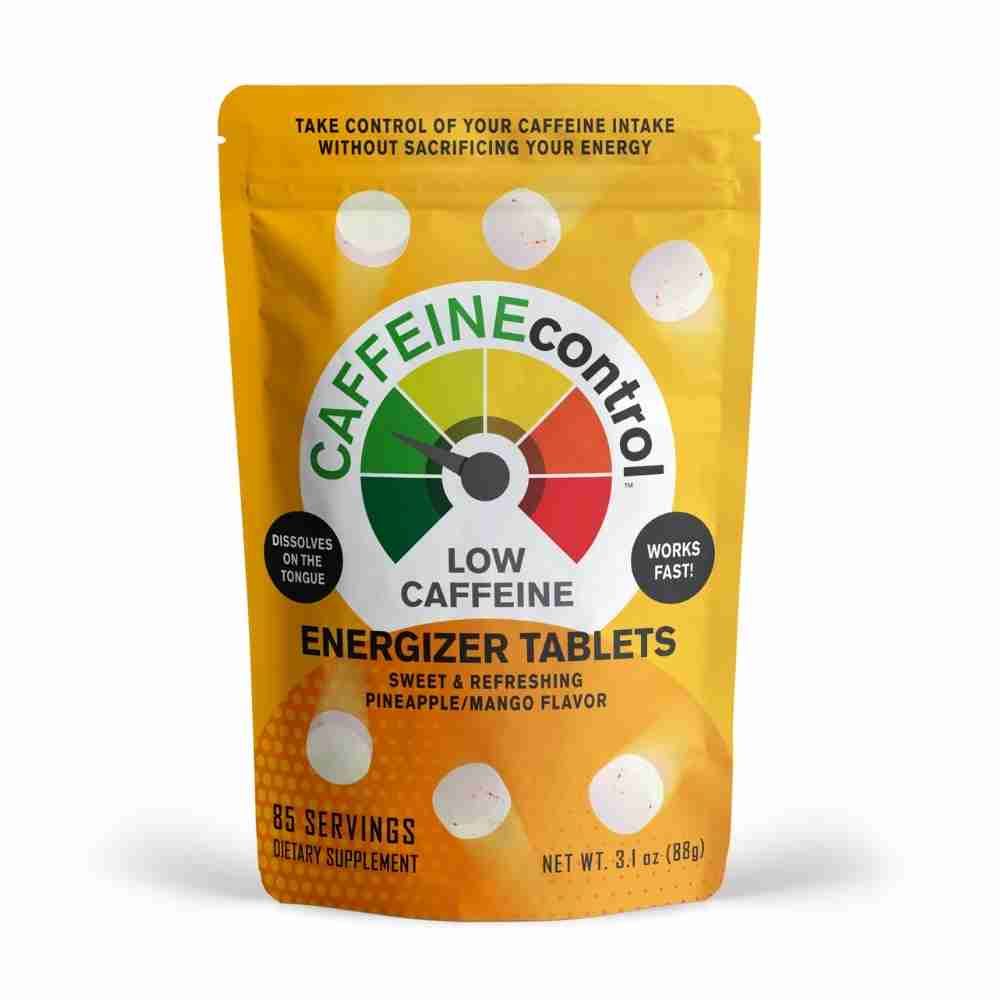 85 Servings

Satisfaction Guarantee

FREE SHIPPING
170 Servings 
Best Value
Perfect To Have One At Work & One In the Car
Satisfaction Guarantee
FREE SHIPPING